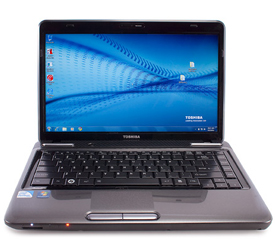 This week we had a Toshiba Satellite L645 laptop come in for repair.
The L645 is a laptop which sports a dual core Intel processor around 2Ghz. They are a nifty 14″ laptop and closing in on the end of their life cycle. At the moment, some people do desire to keep them around a bit longer.
This L645 in particular had no display.
To troubleshoot a Toshiba with no display the first thing we do here is see if it has external video. If it does not, it has either a:
Defective processor
Defective Motherboard
Defective memory
At least 98% of the time the motherboard is bad.
This model in particular uses an Intel chipset for video which is not prone to breaking, but, it does happen. In this case, the laptop needs a motherboard replacement.
This is what a Toshiba Satellite L645 Motherboard looks like: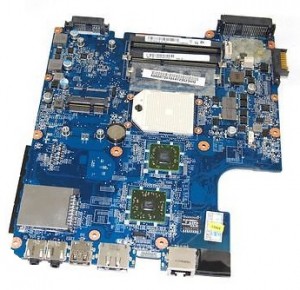 In the event you DO have an external display, fixing it could be as simple as re-seating the LCD ribbon cable. However, this fixes VERY few machines. There are models that are prone to loose ribbon cables, and, the L645 is not one of them.
While this is probably of no help to you in this particular case, here is a video on re-seating the video cable: