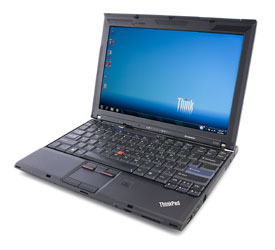 Today we had a Lenovo ThinkPad X201 Laptop come in for a hard drive replacement.
This particular laptop would not boot to Windows. After powering on, the Windows 7 welcome screen would hang. The customer described it as "frozen".
After discovering the hard drive was bad we informed our customer, who opted for a new 320GB hard drive.The ThinkPad X201 uses a standard 2.5″ hard disk.
In this case all of the data was recoverable. We installed the new hard drive, loaded the customer's OS (Windows 7), put the recovered data back onto the computer, and also upgraded it to Windows 10 (upon request).
The ThinkPad X201 is getting a bit old but other than the hard drive it is a very reliable machine. This one meets the customer's needs and is now back in action.