We have sold thousands of pre-owned ThinkPad laptops to people in Cary, Raleigh, and nationwide.
Looking for an Apple? Go here: Apple Macbook Pro notebooks.
Looking for an affordable used or refurbished laptop computer? What about a used or refurbished desktop computer? We have them for sale here. Not sure what you need? Tell us what you want to use a computer for, and if we have something that meets your needs, we will recommend it. If we do not, we will point you in the right direction. We sell to the general public and can also handle bulk laptop laptops for businesses and government agencies.
ThinkPad Laptops in stock
Our inventory changes daily. This is a sample of machines which that we have in stock as of October 2015:
---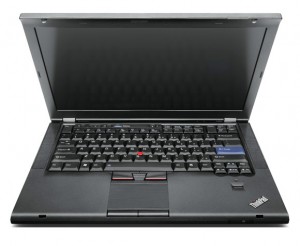 ThinkPad T420, $299 – $399 depending on configuration.
Lightweight, powerful 14″ widescreen
Fast i5 CPU
4-8GB RAM
Linux, Windows 7 or Windows 10
DVD+-RW
HD or SSD (Solid State Drive)
---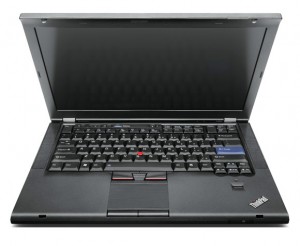 ThinkPad T430, $349 – $449 depending on configuration.
Lightweight, powerful 14″ widescreen
Fast i5 CPU
4-8GB RAM
Linux, Windows 7 or Windows 10
DVD+-RW
HD or SSD (Solid State Drive)
---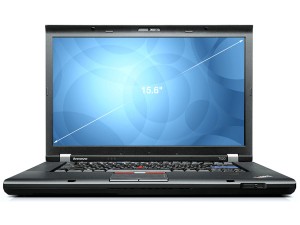 ThinkPad T520, $349 – $599 depending on configuration.
15.6″ widescreen (various resolutions)
Fast i5 CPU (optional i7)
4-8GB RAM
Windows 10 (or 7)
DVD+-RW
HD or SSD (Solid State Drive)
We also carry refurbished desktop PCs

If you have a specific need please do call in advance.
Most desktop computers for sale are i3 or newer and running windows 7 or Windows 10.
Used laptop FAQs:
What is a refurbished laptop or computer?
When we say that our computers are refurbished, this means that we start with a working computer that we have fully tested and repaired as needed. Then we completely sanitize and wipe the drive of all existing data. We install a new licensed copy of genuine Microsoft operating system software plus all the appropriate drivers. In certain cases we will also upgrade the hardware to include additional performance capacity required for today's software standards.
Where do these used machines come from?
We have been selling refurbished ThinkPad laptops on a regular basis since 2002. The majority of these machines come off lease from larger companies. Sometimes customers sell us their laptops as well.
Transferring Data
We can transfer your data from an old machine to a new one. We can also upgrade the amount of memory, size of hard drive or version of operating system on a machine in stock to meet your needs.  Some road warriors ask us to replace the mechanical hard drive with a SSD – these are rugged machines that will handle travel well.
Which laptop should I get?
Our inventory changes daily, but we will always have ThinkPads in stock. We like the rugged nature of these machines – they just keep working. NASA uses a ThinkPad on the International Space Station.
We try to have a range of models in stock to address different customer's needs and price points. Our objective is to provide a quality machine at an affordable price. Our previously used machines have been tested and refurbished by our technicians. We try to typically have eight or so machines on display but will usually have more in stock in back. Our refurbished laptops will be priced in the $325 to $800 range.  Most of our machines will have been expensive business machines that have come off of a 3 year lease with a corporate customer.  These machines will typically have many years of life left.  Our goal is to always have something at each price point, but we do not sell machines that are "on their last legs" for $100 or so.  We send these machines out the door with a warranty and   we want your experience with us to be a good one.
Used laptop warranty
Unless otherwise noted, our laptops have a 90-day warranty against defects. In other words, if it stops working because some component died, we cover it. However, if you drop it or it gets infected with a virus, then we will certainly help you, but that will not be covered by our warranty.
What kind of software do these laptops have?
The machines will typically have the normal drivers  and OpenOffice installed.  We also install Microsoft Internet Security Essentials for antivirus protection.