Back in the year 2000 when I started Absolute Computers, nobody wanted to touch a broken laptop, so we did. As one of the first providers on the East Coast we became very familiar with strengths, weaknesses, and functionality. One thing hasn't changed: What will you be using the computer for?
What is the Best Chomebook for Teachers in 2017?
We work with teachers from all over who are migrating from Macbooks and Windows laptops to Chromebooks. Teachers from Wake County School System come in often inquiring about Chromebooks and ask which one is the best. Most already know: Chromebooks are cheap, work great and don't get viruses like Windows machines.
Most teachers want a reliable Chromebook with a great battery life that is quick, portable, durable, can open Microsoft Documents and has ports for them to plug things in to for the occasional presentation.
Here are our recommendations, all available via Amazon Prime so you have it in just a day or two.
ASUS Chromebook 11.6″ Ruggedized and Water Resistant with 180 Degree LCD – $199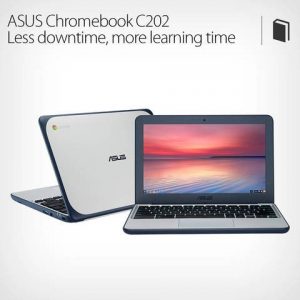 This is the "C202SA-YS02" model and is specifically designed for education. It is sold BY Amazon and also ships FROM Amazon. No third parties to worry about. This unit is dark blue. It has no moving parts in it at all so it is quiet and will last quite a long time. At the time of this article it has nearly (400) reviews and 4.5 out of 5 stars. This is also a great unit for students. This unit has an Intel N3060 CPU, 4GB RAM, 16GB solid state drive, webcam, SD card reader, USB 3.0, HDMI port, HD webcam and has a water resistant keyboard. The battery also lasts about 10 hours, more than enough time to get through the school day.
Buy the ASUS C202 on Amazon here. (http://amzn.to/2odoqHg)

Acer Chromebook 14″ in Gold or Silver – Under $299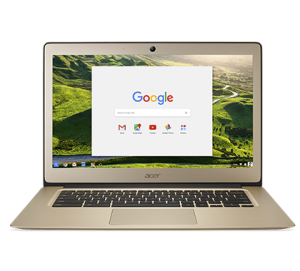 These units are stylish without looking like a Kardashian. We like the Silver model. These have a 14″ screen. Acer has been building Chromebooks for quite a while now, too. These have a fast, quad core Intel N3160 processor, 4GB RAM, and a 32GB drive. The battery lasts 12 hours. These units are 3.4 pounds and have very nice HD displays. The case is brushed aluminum, too. Very cool.
Buy the Acer CB3-431-C0AK on Amazon here. (http://amzn.to/2pCm84U)