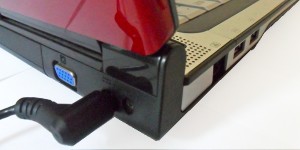 Does your laptop have a broken power jack?
This page is here to inform you about this problem and how to get it fixed.
Symptoms of a broken laptop power jack:
The laptop only runs when you keep the power cord in a certain direction.
The laptop only runs on battery power.
The laptop will not charge the battery.
The laptop switches from AC power to battery power intermittently.
The unit suddenly shuts off.
Sparks come out of the back of the laptop.
The wrong information some repair centers give:
While many computer repair centers are aware of this issue and will refer you to us, most are not. Many, including the large nationwide stores and the laptop's manufacturer, will either tell you the machine is not repairable or that it needs a new motherboard with a quote of several hundred dollars for the repairs.
How a Laptop Power Jack Breaks:
Some laptop power jacks fail under normal operation of your computer. After a year or two of usage, parts just "come loose" on certain models.
The laptop gets dropped and the cord yanks the power jack loose.
People, pets and vacuum cleaners all trip over laptop power cords on a daily basis.
The laptop is moved around a lot. After the laptop power jack is moved back and forth enough times, it comes loose.
The laptop is dropped and the power jack gets "pushed into" the laptop.  Mac laptops can fail due to this problem. Macs have a magnetic connector between the AC adapter and laptop so they can "yank" away safely. But they still can fail if  the plug gets pushed into the laptop – we see this when a laptop falls off a sofa or table and lands on the power connector.   MagSafe is the Apple name given for their magnetically attached power connector.  MacBooks since 2006 have had this type of power jack.
Getting a new power jack installed by us:
At Absolute Computer we do laptop power jack repair on a daily basis on ALL brands of laptops for home users, businesses, and other computer stores all over the US. We have almost every jack available in stock.  A flat rate of $99 to $149 (depending on model) covers all parts and labor for most laptops.
FAQ:
Q. Can I keep my hard drive?
A. Yes. We are able to repair and test your laptop without your hard drive, so feel free to keep it or leave it in the machine, the choice is yours.
Q. Why do you want my AC Adapter?
A. We have found that sometimes even other computer repair stores will misdiagnose a problem. We all are human. If the laptop power jack is not the problem, then it very well could be the AC Adapter. We really want to be able to diagnose your problem with certainty. We also have found that sometimes folks are using the wrong AC Adapter for their machine and that has caused the power jack to fail.
Q. Will this repair work on my laptop?
A. Yes, we repair laptop power jacks for the flat rate of $99 to $149. If you were referred here for Dell specific issues, please see our Inspiron repair page for details.
Q. What if you can't fix it?
A. If the laptop power jack is the problem, we'll fix it. On very rare occasions a laptop will run on battery only or have odd behavior if it has a defective motherboard. Diagnostics are free, so if the jack is not the problem your balance will be $0 and we will give you some options, including sending the laptop back, a quote on a replacement motherboard, etc.
Q. How long does it take?
A. We repair laptops in the order received. Turnaround time is about 3 business days. We stock all jacks to keep turnaround fast. The actual repair and testing takes around 3 hours. Many manufacturers want 8 – 12 weeks!
Q. Will it ever break again?
A. We repair laptop power jacks on a daily basis and the laptop technicians performing this repair are very good at it, however, we cannot redesign your laptop. Some jacks mount in to your laptop's motherboard by as few as three tiny pins. Some people consider this a poor design. Most laptops never return for service a second time, but note that anything will break if hit hard enough.
If you have any other questions regarding this service please feel free to contact us.