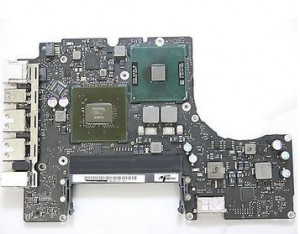 Got spill damage?
If you have a damaged Apple MacBook logic board (motherboard) please bring your machine in for a free diagnostic.
Please note that we are not affiliated with Apple, meaning most repairs here are significantly cheaper and/or faster. We have specialized in notebook repair since 2002.
We repair MacBook, MacBook Pro, and MacBook Air.
Common logic board failures include:
Spill damage / liquid damage
No display
No power
Logic boards fixed in house:
Minor spill damage can be fixed here with dis-assembly and cleaning.
Logic boards we outsource:
Boards which will not power on after spill damage are sent out to a parter of our who we have used for nearly 15 years. Many of these repairs take around 2 weeks and cost $399 – $499.
Of course, not all boards are worth repairing, but if you are looking at a $1,200 logic board and can get it fixed like new for $400 this is quite a bargain.
What if my logic board is dead?
Sometimes we need to replace the board. Every case is different. If your board needs replacement you can opt to fix it or invest in a new machine.
Feel free to visit our page on logic board replacement.