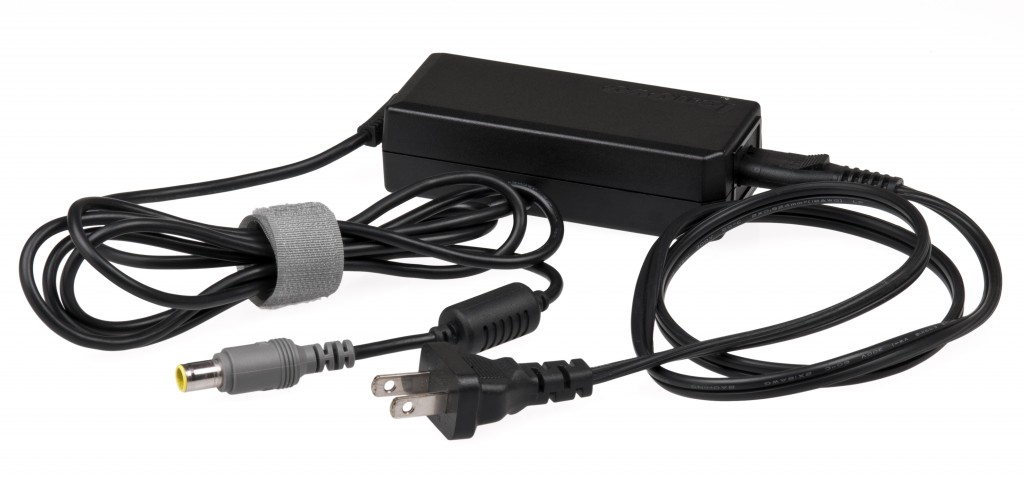 We carry AC adapters and power cords in stock for laptops.
The adapters we carry are genuine adapters built for your laptop. Most are around $39 – $49. Prices vary by model.
We stock most adapters. If you want to be certain we have an adapter in stock before driving here, please give us a quick call. When you call, please have the model # of your laptop handy and/or your AC adapter.
Not all AC adapters are created equal.
Generic, one size fits all style adapters can and will often damage your computer.
There are two popular generic AC adapters:
Universal Laptop Adapter. Some retail stores sell generic adapters with multiple tips. These are possibly the worst adapter to plug into your laptop! Many times they do not supply your laptop with the correct voltage and current for which it is specified. This can result in serious damage to your computer. Never use one of these.
Generic AC adapter. These physically look a lot like your original adapter, but usually "feel cheap," because they are. They typically weigh less than the OEM adapter that came with your machine. On the back, instead of having a name brand, they typically say "AC Adapter." Some are even deceptively called "Genuine Adapters." These are typically found online and are usually around $20. These can malfunction quickly and can damage your laptop with fluctuating voltages and improper wattage. Normally, people find they don't last very long and perhaps wonder why their battery is also failing. Motherboards and other laptop components can be destroyed by these adapters.
People have used these generic adapters with no problems, but we have seen enough of the problems caused by them that we will not sell them here.
Genuine adapters
Genuine AC adapters were manufactured to operate at a very specific amperage, wattage, and voltage.
We have genuine IBM, Lenovo, Sony, Dell and HP adapters. Acer, Gateway, Toshiba, eMachines, Asus, etc., adapters typically have their name, Delta or Li Shin labeled on them. We do not sell generic adapters. When we inherit them, they go directly into the trash. Almost all of our adapters are new. Some adapters, especially for older models, are simply not available new. In this event, we usually have a good used adapter available. A used OEM adapter is better than a new generic adapter. We simply aim to provide you with the best adapter possible.
We are conveniently located in Cary to computer users in Apex, Cary, Clayton, Durham, Fuquay-Varina, Garner, Holly Springs, Knightdale, North Raleigh, Wake Forest, Wendell and Zebulon. We also have customers coming from  Angier, Chapel Hill, Carrboro,  Fayetteville, Fort Bragg,  Sanford,Spring Lake and Rocky Mount.